Pengaruh Internal Corporate Social Responsibility (ICSR) dan Kepemimpinan Terhadap Komitmen Karyawan Bank Syariah Jabodetabek
Keywords:
Komitmen afektif, ICSR Keamanan dan Kesehatan, ICSR Hak Asasi Manusia, ICSR Training dan Pengembangan, ICSR Keseimbangan Kerja dan Hidup serta ICSR Keragaman di lingkungan kerja
Abstract
Komitmen pegawai terhadap organisasinya merupakan hal yang penting, karena akan mendorong kinerja individu dan kinerja organisasinya. Riset ini menggunakan 5 bukan dimensi faktor Internal Corporate Social Responsibility (ICSR) dan kepemimpinan transformasional sebagai anteceden dari komitmen pega-wai. Kelima faktor ICSR tersebut adalah ICSR Keamanan dan Keselamatan, ICSR Hak Asasi Manusia, ICSR Training dan Pengembangan, ICSR Keseimbangan Kerja dan Hidup serta ICSR Keragaman di ling-kungan kerja. Responden penelitian adalah pegawai bank umum syariah (BUS) yang berlokasi di Jabodetabek. Terkumpul 95 sampel dari 8 buah umum syariah. Model diujid dengan Struktural Equation Modeling (SEM), berbasis varian, dan diolah dengan aplikasi SMART PLS 3.0Â 
References
Al-bdour, A. A., Nasruddin, E., & Lin, S. K. (2010). The relationship between internal corporate social responsibility and organizational commitment within the banking sector in Jordan. International Journal of Human and Social Sciences, 5(14), 932-951.
Armstrong, M., & Taylor, S. (2014). Armstrong's handbook of human resource management practice. Kogan Page Publishers.
Breevaart, K., Bakker, A., Hetland, J., Demerouti, E., Olsen, O. K., & Espevik, R. (2014). Daily transactional and transformational leadership and daily employee engagement. Journal of occupational and organizational psychology,87(1), 138-157.
Chun, J. S., Shin, Y., Choi, J. N., & Kim, M. S. (2013). How does corporate ethics contribute to firm financial performance? The mediating role of collective organizational commitment and organizational citizenship behavior. Journal of Management, 39(4), 853-877.
Hair, J.F., Ringle, C.M., Sarstedt, M. (2011). PLS-SEM: Indeed a Silver Bullet. Journal of Marketing Theory and Practice, 19(2), 139–151.
Heng, L. S., Yee, N. H., Leng, T., & Yan, V. L. W. (2014). The Impact of Internal Corporate Social Responsibility Practices towards the Organizational Commitment of Academic Staff in Private Higher Learning Institutions. Doctoral dissertation. UTAR.
Fu, W., & Deshpande, S. P. (2014). The impact of caring climate, job satisfaction, and organizational commitment on job performance of employees in a China's insurance company. Journal of Business Ethics,124(2), 339-349.
Joo, B. K., Jun Yoon, H., & Jeung, C. W. (2012). The effects of core self-evaluations and transformational leadership on organizational commitment. Leadership & organization development journal, 33(6), 564-582.
Mohsan, F., Nawaz, M. M., Khan, M. S., Shaukat, Z., & Aslam, N. (2011). Are employee motivation, commitment and job involvement inter-related: Evidence from banking sector of Pakistan. International Journal of Business and Social Science, 2(17).
Ling, S., & Ling, M. (2012). The influence of transformational leadership on teacher commitment towards organization, teaching profession, and student learning in secondary schools in Miri, Sarawak, Malaysia. Educare, 4(2).
Robbins, S. P., & Judge, T. (2013). Organizational behavior. Boston: Pearson
http://www.bi.go.id/id/perbankan/syariah/Contents/Default.aspx
http://www.radarjogja.co.id/blog/2015/01/05/stagnan-perkembangan-perbankan-syariah/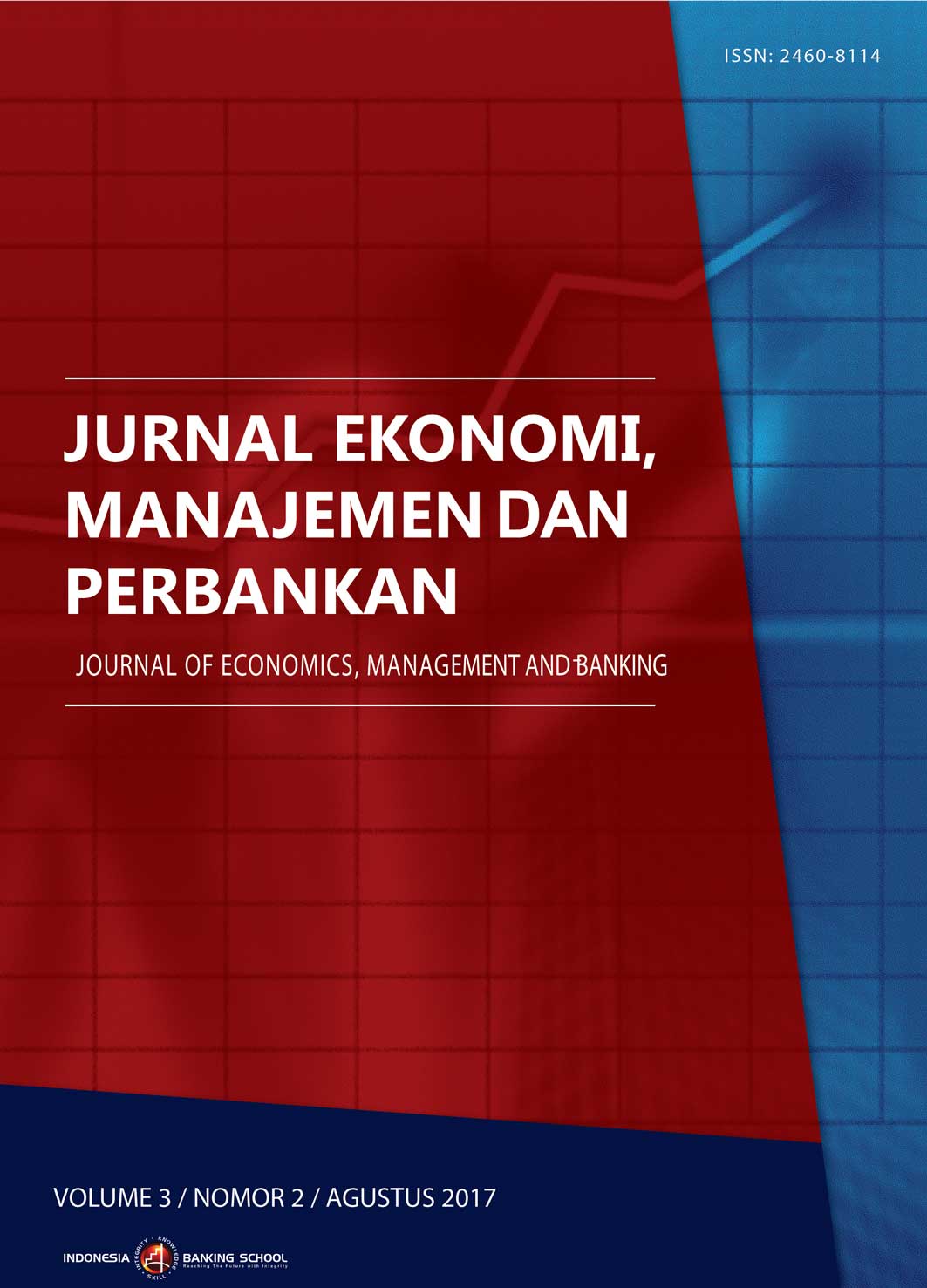 Downloads
License
Authors who publish with this journal agree to the following terms:
Authors retain copyright and grant the journal right of first publication with the work simultaneously licensed under a Creative Commons Attribution License that allows others to share the work to acknowledge the work's authorship and initial publication in this journal.
Authors can enter into separate, additional contractual arrangements for the non-exclusive distribution of the journal's published version of the work (e.g., post it to an institutional repository or publish it in a book) with an acknowledgment of its initial publication in this journal.
Authors are permitted and encouraged to post their work online (e.g., in institutional repositories or on their website) before and during submission. It can lead to productive exchanges and earlier and greater citation of published work.
Abstract Views: 207
|

File Downloads: 182