Pengaruh Work Life Balance, Kepemimpinan Transformasional, dan Budaya Organ-isasi Terhadap Employee Engagement dalam Membentuk Kinerja Pada Karyawan Generasi Y
Keywords:
Work Life Balance, Kepemimpinan Transformasional, Budaya Organisasi, Employee En-gagement, Kinerja Karyawan
Abstract
Tujuan dari penelitian ini adalah untuk mengetahui pengaruh work life balance, kepemimpinan transforma-sional, dan budaya organisasi terhadap employee engagement pada Generasi Y, serta untuk mengetahui pengaruh employee engagement terhadap kinerja karyawan pada Generasi Y. Perkembangan karyawan Generasi Y dalam dunia kerja telah menimbulkan kekhawatiran tentang cara melibatkan kelompok ini. Sampel dalam penelitian ini berjumlah 119 responden Generasi Y yang saat ini bekerja di Bank ABC dan diolah menggunakan Structural Equation Modeling (SEM). Hasil penelitian menunjukkan bahwa 1) ter-dapat hubungan yang signifikan antara work life balance dan budaya organisasi terhadap employee en-gagement, sedangkan pada kepemimpinan transformasional tidak terdapat hubungan yang signifikan ter-hadap employee engagement Generasi Y, 2) terdapat hubungan yang signifikan antara employee engage-ment terhadap kinerja karyawan pada Generasi Y. Hasil penelitian ini belum dapat digeneralisir karena memiliki keterbatasan, yaitu dilakukan di wilayah operasional Bank ABC yang tidak mencakup seluruh wilayah Indonesia. Penelitian ini juga fokus Generasi Y. Perbedaan gografis dan demografis dapat mempengaruhi hasil penelitian. Berdasarkan keterbatasan, saran untuk penelitian selanjutnya adalah menggunakan objek penelitian yang berbeda dan mengambil populasi di luar wilayah operasional bank ABC dan dilakukan dengan klasifikasi generasi yang berbeda. Implikasi: 1) Work Life Balance: membat-asi jam kerja dan memberikan apresiasi terhadap pencapaian, 2) Kepemimpinan Transformasional: memas-tikan proses penempatan pemimpin berdasarkan kompetensi dan pengalaman dan memberikan feedback langsung terhadap karyawan, 3) Budaya Organisasi: studi banding ke beberapa Bank dan memilih insan budaya di setiap unit, 4) Employee Engagement: penentuan jenjang karir berdasarkan kompetensi dan pen-galaman dan mengadakan acara outbond.
References
Al-Saadi, A. M. (2017). Exploring Key Drivers of Employee Engagement from an HR Perspec-tive in the Industrial Sector of Sohar, Oman (Doctoral dissertation, The British University in Dubai (BUiD)).
Anitha,J. (2014). Determinants of employee en-gagement and their impact on employee performance. International Journal of Productivi-ty and Performance Management, 63(3),308-323.
Annisa, A., & Soeling, P. D. (2013). Pengaruh Em-ployee Engagement Terhadap Kinerja Karya-wan PT. Chandra Sakti Utama Leasing Ja-karta. Universitas Indonesia, 1-19.
Baron, A., & Michael, A. (2013). Human Capital Management: Achieving Added Value Through People. Terj. Lilian Juwono. Jakar-ta. PPM.
Cooper D.R. & Schindler. (2011). Business re-search methods. New York: McGraw- Hill
Dajani, D., & Zaki, M. A. (2015). The impact of employee engagement on job performance and organisational commitment in the Egyp-tian banking sector.
Datche, E., & Makulu, E. (2015). The effects of transformational leadership on Employee engagement: A survey of civil service in Ken-ya. Issues in Business Management and Eco-nomics Vol.3 (1), pp. 9-16.
Delecta, P. (2011). Work-life balance. International Journal of Current Research Vol. 33, Issue ,4, pp-186-189.
Denison. 2010. Organizational Culture & Employ-ee Engagement: What's The Relationship?. Vol 4, Number 3, West Washing-ton.DenisonConsulting,LLC.
Eisner, S. P. (2005). Managing generation Y. SAM Advance Management Journal, 70 (4), 4-5.
Elewa, T. F. (2020). Globalising employee en-gagement: myths and reality; a Middle East perspective (Doctoral dissertation).
Fatimah, H., Dharmawan, A.H., Sunarti, E., &Affandi, M.J. (2015). Pengaruh Faktor Karakteristik Individu dan Budaya Organ-isasi terhadap Keterikatan Pegawai Gen X dan Y.
Ghafoor, A., Qureshi, T. M., Khan, M. A., & Hi-jazi, S. T. (2011). Transformational leader-ship, employee engagement and perfor-mance: Mediating effect of psychological ownership. African Journal of Business Man-agement, 5(17),7391-7403.
Ghozali, I. (2013). Aplikasi Analisis Multivariat dengan Program IBM SPSS. Edisi 7. Sema-rang: Penerbit Universitas Diponegoro.
Harun, U. (2016). Pengaruh Ratio-Ratio Keuangan CAR, LDR, NIM, BOPO, NPL Terhadap ROA. Jurnal Riset Bisnis dan Manajemen Vol 4 ,No.1, 67-82.
Hasanati, N., Larasati, D.P., & Istiqomah. (2018). The Effects of Work-Life Balance towards Employee Engagement in Millennial Genera-tion. Advances in Social Science, Education and Humanities Research (ASSEHR), volume 304.
Hawkins, del I., Mothersbaugh, David L., and Best, Roger J. (2007). Consumer Behavior, 10th Edition. Mc Graw Hill Australia.
Hewitt Associates LLC. (2015). Aon Hewitt's Model of Employee Engagement
Hemsworth, D., Muterera, J., & Baregheh, A. (2013). Examining Basss transformational leadership in public sector executives: A psy-chometric properties review. Journal of Ap-plied Business Research (JABR), 29(3), 853-862.
Horeczy, A., Lalani, A., Mendes, G., Miller, M., Samsa, L., & Scongack, T. (2012). Leader-ship Preferences of Generation Y.Joseph Jr, F. Hair Jr, William C. Black, Barry J. Babin, and Rolph E. Anderson. (2014). Multivariate data analysis.
Kahn, W.A. (1990). Psychological Conditions Of Personal Engagement And Disengagement at Work. Academy of Management Journal. Vol 33, pp 692724.
Lavoie, A. (2014). Work life balance and SMEs: Avoiding the "one size fits allâ€. CFIB Re-search, 1–13.
Lewiuci, P. G. (2016). Pengaruh employee engage-ment terhadap kinerja karyawan pada perus-ahaan keluarga produsen senapan angin. Ag-ora, 4(2), 101-107.
Lin, S., Lamond, D., Yang, C. L., & Hwang,
M. (2014). Personality traits and simultaneous reciprocal influences between job perfor-mance and job satisfaction. Chinese Man-agement Studies.
Malhotra, N. K., & Birks, D. F. (2016). Marketing Research: An Applied Approach. Updated Second European Edition. England: Pearson Education Limited
Mathis, R. L., & Jackson, J. H. (2011). Human re-source management: thirteenth Edition. South Western Cengage Learning. USA.
Mayanastasia, G., Lay, A., & Widjaja, D. (2017). Analisa Pengaruh Employee Engagement Terhadap Customer Satisfaction Dengan Kinerja Karyawan Sebagai Variabel Interven-ing Pada Artotel Hotel Surabaya. Jurnal Hos-pitality dan Manajemen Jasa, 5(2).
McBain, David, Rees. Richard. 2007. People Man-agement. Teori dan Strategi (Tantangan dan Peluang). Jakarta. Kencana Perdana Media Group
Mohamed, H.A.E.S., & Zaki, H.S. (2017). Investi-gating the Relationship between Work- Life Balance and Employee Engagement among Flight Attendants. International Journal of Heritage, Tourism and Hospitality Vol. (11), No. (1/2).
Monecke, A., & Leisch, F.(2012). SEM PLS: Structural Equation Modeling Using Partial Least Square. Journal of Statistic Software.
Motowidlo, S. J., Brief, A., & (2017). Prosocial Organizational Behaviors. Academy of Man-agement, 11(April). https://
doi.org/10.2307/258391
Murnianita, F. B. (2012). Pengaruh Kepemimpinan Terhadap Employee Engagement Pada PT. PLN (Persero) PUSDIKLAT. Universitas In-donesia.
Nilwala, N., Gunawardana, K., & Fernando, R.L.S. (2017). Scale For Measuring Trans-formational Leadership In Public Sector Or-ganizations In Sri Lanka: With Special Refer-ence To Ministries Of Western Provincial Council. International Journal of Manage-ment and Sustainability Vol. 6, No. 4, pp. 63-74.
Nugroho, A.R., Budi, W., Susanto, B. (2018). Pengaruh Quality of Work Life dan Gaya Kepemimpinan Transformasional Terhadap Employee Engagement pada Karyawan CV. X Cabang Kabupaten Tulungagung dan Blitar.
Permadi, F.A.A., Musadieq, M.A., & Prasetya, A. (2018). The Influence Of Transformational Leadership On Organizational Culture And Employee Engagement. Jurnal Administrasi Bisnis (JAB)|Vol. 59.
Rana, S., Pant, D., & Chopra, P. (2019). Work En-gagement And Individual Work Perfor-mance: Research Findings And An Agenda For Employee Relationships. Journal of Emerging Technologies and Innovative Re-search (JETIR).
Rivai, V., & Sagala, E. J. (2011). Manajemen Sum-ber Daya Manusia untuk Perusahaan ed 2. Rajawali Pers, Jakarta.
Robinson, D., Perryman, S., & Hayday. (2004). The Drivers of Employee Engagement Report 408. Brington: Institude for Employement Studies.
Santoso, S. (2015). Amos 22 untuk Structural Equation Modeling. Jakarta: Elex Media Komputindo.
Schaufeli W.B, Bakker A.B. (2003). Utrecth Work Engagement Scale (UWES) Preilinary Manu-al. Occupational Health Psychological Meas-urement.
Schiffman, Leon.G. dan Leslie Lazar Kanuk. (2007). Perilaku Konsumen. Edisi Ke-7. Diterjemahkan oleh Zoelkifli Kasip. PT. In-deks, Jakarta.
Shahzadi, I., Javed, A., Pirzada, S. S., Nasreen, S., & Khanam, F. (2014). Impact of employee motivation on employee perfor-mance. European Journal of Business and Management, 6(23), 159-166.
Shuck, B., Reio Jr, T. G., & Rocco, T. S. (2011). Employee engagement: An Examination of antecedent and outcome variables. Human resource development international, 14(4), 427-445.
Sugiyono. (2017) . Metode Penelitian Kuantitatif, Kualitatif, dan R & D. Bandung. Penerbit CV. Alfabeta.
Sutrisno, E. (2013). Budaya Organisasi. Jakarta. Kencana Prenada Media Group.
Tabouli, E. M., Habtoor, N., & Mohammad Nashief, S. (2016). Employee Performance Scale: Using (CFA) On Jumhouria Bank in Libya. International Journal of Science and Research, 5(6), 735-9.
Towers Perrin, "The Towers Perrin Global Work-force Study: Closing the Engagement Gap: A Road Map for Driving Superior Business Performance,†2008, retrieved March 20, 2009
Utama, I. G. B. R. (2016). Teknik Sampling Dan Penentuan Jumlah Sampel. Universitas Dhyana Pura, Bali.
Wahyuningsih, S.H., Sudiro, A., Troena, E.A, & Irawanto, D.W. (2019). Analysis of organiza-tional culture with denison's Model approach for international business competitiveness. Problems and Perspectives in Management, 17(1), 142-151.
Welbourne, T. M., 2007, employee engagement : beyond the fad and into the executive suite, john wiley & Son Inc
Yohanes, W., & Pontjoharyo, W. (2013). Perancangan Balanced Scorecard–Learning and Growth Perspective Untuk Mencapai Sustainable Growth Di PT. Yamaha Indone-sia Motor Manufacturing–Bali. Calyptra, 2(2), 1-11.
Zudia, M., & NASIR, M. (2010). Analisis Penilaian Kinerja Organisasi dengan Menggunakan Konsep Balanced Scorecard pada PT Bank Jateng Semarang.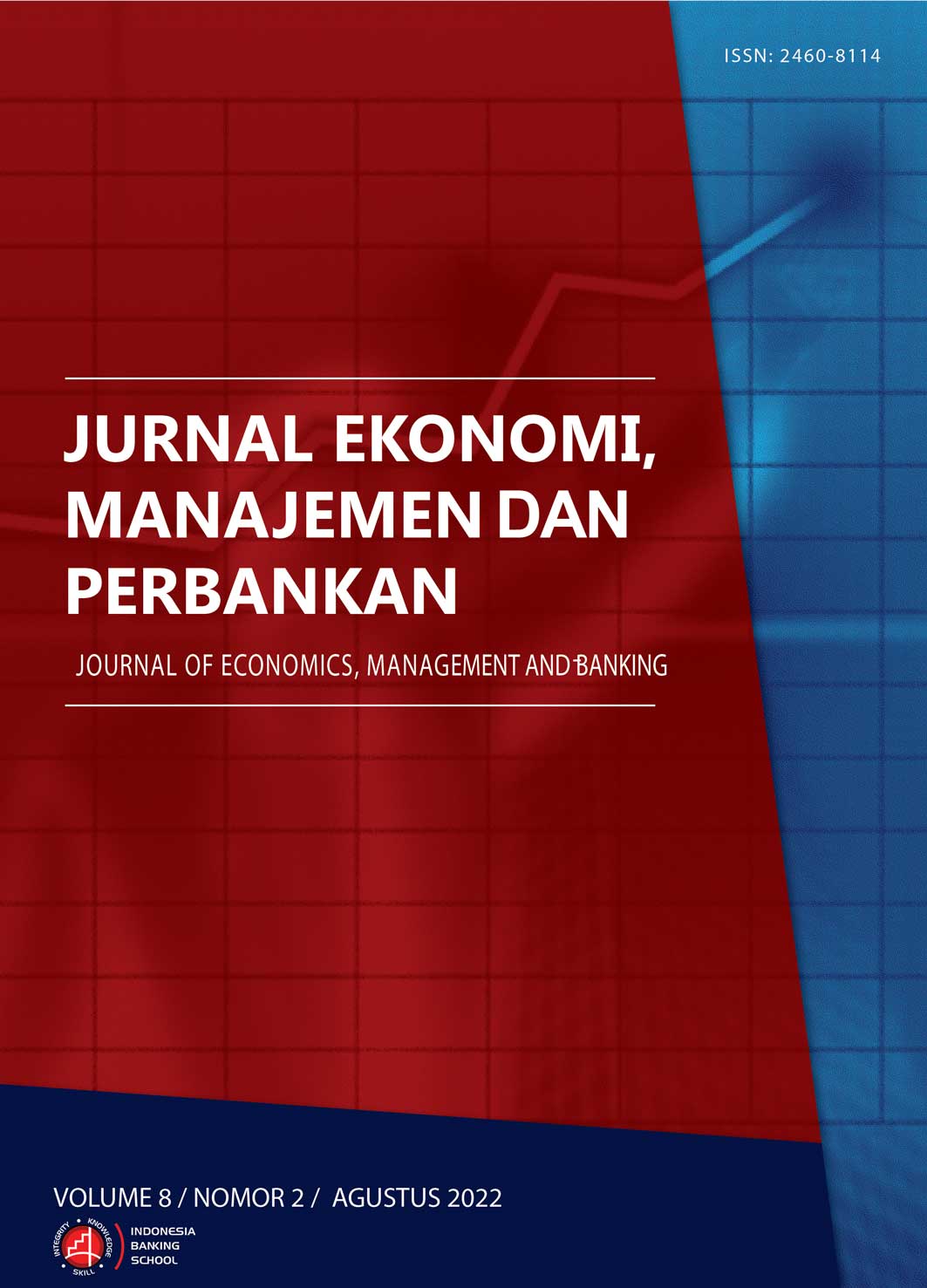 Downloads
License
Authors who publish with this journal agree to the following terms:
Authors retain copyright and grant the journal right of first publication with the work simultaneously licensed under a Creative Commons Attribution License that allows others to share the work to acknowledge the work's authorship and initial publication in this journal.
Authors can enter into separate, additional contractual arrangements for the non-exclusive distribution of the journal's published version of the work (e.g., post it to an institutional repository or publish it in a book) with an acknowledgment of its initial publication in this journal.
Authors are permitted and encouraged to post their work online (e.g., in institutional repositories or on their website) before and during submission. It can lead to productive exchanges and earlier and greater citation of published work.
Abstract Views: 544
|

File Downloads: 421