Pengaruh Customer Relationship Management dan Customer Experience Quality Ter-hadap Customer Loyalty Melalui Customer Satisfaction (Studi pada Konsumen di Tanamera Cafe Jakarta)
Keywords:
Customer Relationship Management, Customer Experience Quality, Customer Satisfac-tion, Customer Loyalty
Abstract
Penelitian ini membahas tentang manajemen hubungan pelanggan dan kualitas pengalaman pelanggan, yang diduga mempengaruhi kepuasan pelanggan dan berdampak pada loyalitas pelanggan di Tanamera Cafe Jakarta. Dalam penelitian ini variabel customer relationship management dan customer experience quality diukur melalui dimensi variabel tersebut. Masing-masing dimensi ini akan diuji secara parsial bagaimana pengaruhnya terhadap kepuasan pelanggan dan loyalitas pelanggan. Selain itu, penelitian ini juga ingin mengetahui dimensi mana yang paling berpengaruh terhadap kepuasan pelanggan dan loyalitas pelanggan. Sampel penelitian adalah 100 pengunjung yang mengunjungi Tanamera Cafe Jakarta minimal tiga kali dalam kurun waktu satu tahun. Pengamatan akan dianalisis menggunakan Structural Equation Model (SEM). Hasil penelitian menunjukkan bahwa empat dimensi customer relationship management dan lima dimensi customer experience quality berpengaruh signifikan kuat terhadap kepuasan pelanggan. Se-hingga dibutuhkan kepuasan pelanggan sebagai variabel intervening untuk mencapai loyalitas pelanggan yang memiliki pengaruh signifikan yang kuat.
References
Assael, (2001). Consumer Behaviour 6th Edition. New York Thomson Learning.
Ariyanti, Maya., Rachmawati, Mariana., Universitas Widyatama Bandung 2008 'Pengaruh customer relationship management dengan loyalitas pelanggan bengkel ban sepeda motor bandung'
Bigne, J. E., Mattila, A. S., & Andreu, L. (2008). The Impact of Experiential Consumption Cognitions and Emotions on Behavioral Intentions. Journal of Services Marketing, 22 (4), 303-315.
Chan, (2003) Relationship marketing :Inovasi pemasaran yang membuat pelanggan bertekuk lutut. Jakarta PT.Gramedia Pustaka Utama.
Cravens, David W., dan Piercy, Nigel F., (2004). Strategic marketing (7th ed.)
Cooper, D. R., dan Schindler, P. S. (2011). Business Research Methods. Singapore: The McGraw-Hill Companies, Inc.
Ghozali, I. (2005). Aplikasi analisis multivariate dengan program SPSS. Semarang: Badan Penerbit Universitas Diponogoro.
Ghozali I,(2008). Structural Equation Modeling Metode Alternatif dengan Partial Least Square (PLS). Semarang: Universitas Diponegoro, 2008.
Ghozali, I. (2008). Model Persamaan Struktural Konsep dan Aplikasi dengan Program AMOS 16.0. Semarang: UNDIP.
Griffin, Jill, 2002, Customer Loyalty : How to Earn It, How to Keep It, Lexington
Hair et al., (2010), Multivariate Data Analysis, Sixth Edition. Pearson Education, Inc. New Jersey.
Kartajaya, Hermawan. (2007). Boasting loyalty marketing performance. Bandung: Mizan ustaka.
Kotler, P. (2008). Marketing Management, (10th ed.). USA: Prentice Hall, Inc.(2008). Manajemen Pemasaran, Jilid1 dan 2. Jakarta: PT. Indeks Kelompok Gramedia.(2009). Marketing Management. New Jersey, USA: Prentice Hall.Inc.
Maholtra, N. (2004). Marketing research. New Jersey: Pearson Prentice hall.
Maholtra, N. (2007). Marketing research and applied orientation (5th ed.). New Jersey: Pearson Education inc, Prentice hall.
Mowen, John C dan Michael Minor.(2002). Perilaku Konsumen. Jild Satu Edisi Kelima. Alih Bahasa Lina Salim. Jakarta: Erlanga
Oliver, Richard L., 1998, "Whence Customer Loyaltyâ€, Journal of Marketing, Vol. 63 (Special Issues)
Senjaya, V., Semuel, H., dan Dharmayanti, D. (2013). Pengaruh Customer Experience Quality Terhadap Customer Satisfaction dan Customer Loyalty Di Café Excelso Tunjungan Plaza Surabaya: Perspektif B2C. JURNAL MANAJEMEN PEMASARAN PETRA, 1(1), 1 - 15.
Sri Minarti Ningsih Dr. Waseso Segoro, Ir., MM Jurusan Manajemen Fakultas Ekonomi, Universitas Gunadarma ' 2009Pengaruh Customer Satisfaction, Switching Cost Dan Trust In Brand Terhadap Customer Loyalty Pada Mahasiswa Pengguna Produk Kartu Seluler Prabayar Im3 Di Kota Depok
Tu, Y. T., Wang, C. M., & Chang, H. C. (2012). Corporate Brand Image and Customer Satisfaction on Loyalty: An Empirical Study of Starbucks Coffee in Taiwan. Journal of Social and Development Sciences, 3 (1), 24-32
Wijanto, Setyo Hari. 2008. Structural Equation Modeling dengan LISREL 8.8 Konsep dan Tutorial.Yogyakarta : Graha Ilmu.
Wangkar, A. (2013). Pengaruh Kualitas Layanan, Nilai Pelanggan, Customer Relationship Management (CRM) Terhadap Kepuasan Pelanggan Dan Loyalitas Pelanggan (Studi Pada Pt.William Makmur Perkasa Manado). Jurnal Riset Bisnis Dan Manajemen, 1(3), 1 - 16.
Wijayanto, S. H. (2008). Structural Equation Modeling dengan Lisrel 8.8: Konsep dan Tutorial (Pertama ed.). Yogyakarta: PT Graha Ilmu.
Vivie Senjaya ; Prof. Dr. Hatane Semuel, S.E., Ms. Dan Diah Dharmayanti, S.E., M.Si 2007. Jurusan Manajemen Pemasaran, Universitas Kristen Petra 'Pengaruh Customer Experience Qualityterhadap Customer SatisfactiondanCustomer Loyaltydi Café Excelso Tunjungan Plaza Surabaya: Perspektif B2c'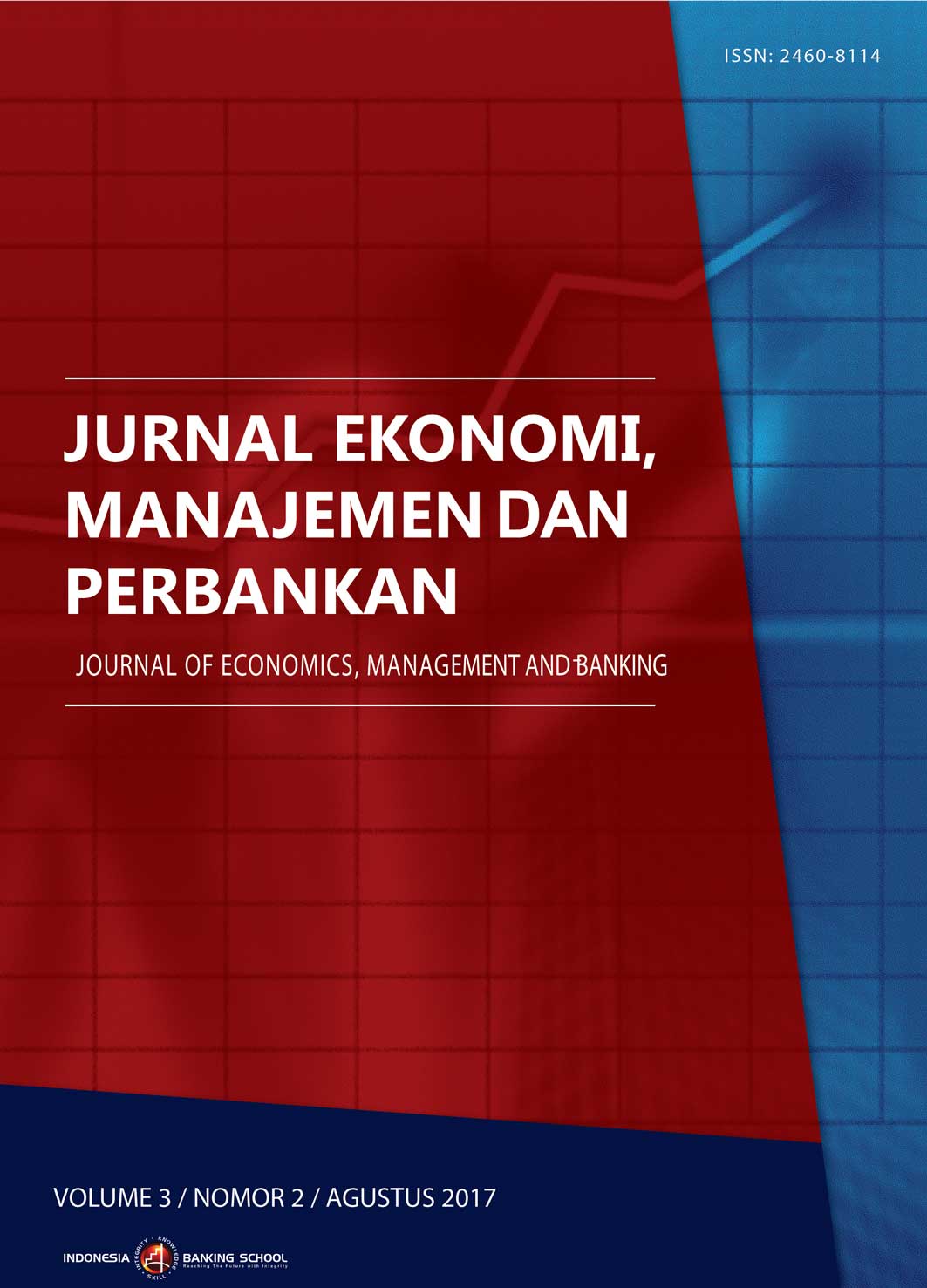 Downloads
License
Authors who publish with this journal agree to the following terms:
Authors retain copyright and grant the journal right of first publication with the work simultaneously licensed under a Creative Commons Attribution License that allows others to share the work to acknowledge the work's authorship and initial publication in this journal.
Authors can enter into separate, additional contractual arrangements for the non-exclusive distribution of the journal's published version of the work (e.g., post it to an institutional repository or publish it in a book) with an acknowledgment of its initial publication in this journal.
Authors are permitted and encouraged to post their work online (e.g., in institutional repositories or on their website) before and during submission. It can lead to productive exchanges and earlier and greater citation of published work.
Abstract Views: 1191
|

File Downloads: 816