Kualitas Pelaporan Keuangan, Diversitas Manajerial dan Efisiensi Investasi
Keywords:
efisiensi investasi, kualitas pelaporan keuangan, keragaman manajemen
Abstract
Tujuan dari penelitian ini adalah untuk menguji dan menganalisis hubungan antara variabel independen kualitas pelaporan keuangan, keragaman manajemen (jenis kelamin dan latar belakang pendidikan) efisiensi abstrak investasi perusahaan. Pengambilan sampel ditentukan dengan menggunakan metode pur-posive sampling yang terdaftar di Bursa Efek Indonesia yang terdiri dari 37 perusahaan industri barang konsumsi. Data diperoleh sebagai data sekunder berupa laporan keuangan tahun anggaran 2011-2015. Alat analisis dalam penelitian ini menggunakan analisis regresi linier berganda, hipotesis didasarkan pada penelitian sebelumnya dengan topik serupa dan teori pendukung lainnya. Hasil dari penelitian ini menun-jukkan bahwa kualitas pelaporan keuangan tidak berhubungan secara signifikan dengan efisiensi investasi perusahaan, keragaman jenis kelamin tidak berhubungan secara signifikan dengan efisiensi investasi perus-ahaan, dan keragaman latar belakang pendidikan berhubungan positif dan signifikan dengan efisiensi in-vestasi perusahaan.
References
Ararat, Melsa., Mine Aksu, and Ayse T. Cetin. 2010. Impact of Board Diversity on Boards' Monitoring Intensity and Firm Performance: Evidence from the Istambul Stock Exchange. Available at: http://ssrn.com/abstract=1572283.
Bangun, Wilson. (2010). Manajemen Sumber Daya Manusia. Jakarta: Erlangga.
Beatty, A., Liao, S., and Weber, J. 2009. Financial reporting quality, private information, monitoring and the lease-versus-buy decision. Dalam Working paper Ohio State University.
Bhagat, Sanjai., et. al. (2010). CEO Education, CEO Turnover, and Firm Performance melalui http://ssrn.com/abstract=1670219.
Biddle, Gary. C., G. Hillary, dan Verdi, R. S.. 2009. How Does Financial Reporting Quality Relate to Investment Efficiency?. Journal of Accounting and Economics. 48(112-131).
Bushman, R.M., Piotroski, J.D., and Smith, A.J. 2006. Capital allocation and timely accounting recognition of economic losses: international evidence. Dalam Working Paper University of Chicago.
Chen, Hope, Li, dan Wang. 2011. Financial Reporting Quality and Investment Efficiency of Private Firms in Emerging Markets. The Accounting Review American Accounting Association. Vol. 86, No.4. 2011.pp.1255-1288.
Darmadi, Salim. 2011. Board diversity and firm performance: the Indonesian evidence. Forthcoming in the journal Corporate Ownership and Control Volume 8, 2011.
Emerson, Richard M. 1962. Power-Dependence Relations. American Sociological Review. Vol. 27, No. 1. (Feb., 1962), pp. 31-41.
Ernst & Young. 2009. Groundbreakers study, diversity an equation for success. http://www.ey.com/GL/en/Issues/Driving-growth/Groundbreakers-Diversity-an-equation-for-success.
Faccio, Mara., et al. 2012. CEO Gender, Corporate Risk-Taking, and the Efficiency of Capital Allocation. Available at SSRN 2021136.
Fanani, Z. 2009. Kualitas Pelaporan Keuangan: Berbagai Faktor Penentu dan Konsekuensi Ekonomis. Jurnal Akuntansi dan Keuangan Indonesia.6(20-45).
Ghozali. Imam. 2009. Aplikasi Analisis Multivariate Dengan Program SPSS, Edisi Keempat. Penerbit Universitas Diponegoro.
Ghozali, I. (2013). Aplikasi Analisis Multivariate dengan Program IBM SPSS 21 Update PLS regresi (Edisi ke-7 ed.). Semarang: Badan Penerbit Universitas Diponegoro.
Godfrey, J., Hodgson, A., Tarca, A., Hamilton, J., & Holmes, S. (2010). Accounting Theory (7th ed.). Australia: John Wiley & Sons.
Gomariz, Cutillas M.F., Sánchez Ballesta, J.P., 2013. Financial reporting quality, debt maturity and investment efficiency. Journal of Banking & Finance 22, 2-5.
Gottesman, Aron A, dkk. (2010). Does a Better Educational Make For Better Managers? An Empirical Examination of CEI Educational Quality and Firm Performance. Available melalui at SSRN 564443.
Gujarati, Damodar N. (2006). Dasar-Dasar Ekonometrika. (3th ed.). Jakarta: Erlangga.
Handayani, Ulum Tri dkk. 2015. Kualitas Pelaporan Keuangan, Mekanisme Governance, dan Efisiensi Investasi. Simposium Nasional Akuntansi XVIII. Depok: Universitas Indonesia.
Ikatan Akuntan Indonesia. 2015. PSAK No.1 Penyajian Laporan Keuangan. Jakarta: Salemba Empat.
Jensen, M. C., dan W. H. Meckling. 1976. "Theory of The Firm: Managerial Behavior, Agency Costs and Ownership Structure". Journal of Financial Economics , 3 (4), 305–360.
John, Kose, Lubomir Litov, and Bernard Yeung. 2008. Corporate governance and risk-taking, Journal of Finance 63, 1679-1728.
Kartikarini N., Mutmainah, Siti. 2013. Analisis Pengaruh Diversitas Gender terhadap Voluntary Corporate Governance Disclosure dalam Laporan Tahunan Perusahaan. 2013. DIPONEGORO JOURNAL OF ACCOUNTING Volume 2, Nomor 1, Tahun 2013, Halaman 1.
Kusumastuti, Sari dkk. 2007. Pengaruh Board Diversity Terhadap Nilai Perusahaan dalam Perspektif Corporate Governance. Jurnal Akuntansi dan Keuangan, Vol. 9, No. 2, November 2007: 88-98.
Mahadeo, Jyoti D., et. al. (2012). Board Composition and Financial Performance: Uncovering the Effects of Diversity in an Emerging Economy. J Bus Ethics (2012) 105:375–388, DOI 10.1007/s10551-011-0973-z.
Muller, C., et. al. (2014). Board diversity and financial performance: A graphical time-series approach melalui http://ssrn.com/abstract=2399343.
Nakagawa, Yukiko and Schreiber G. M. 2014. Women As Drivers Of Japanese Firms' Success: The Effect Of Women Managers And Gender Diversity On Firm Performance. Journal of Diversity Management – June 2014. Volume 9, Number 1.
Payamta. 2006. Studi Pengaruh Kualitas Auditor, Independensi, dan Opini Audit Terhadap Kualitas Laporan Keuangan Perusahaan. Jurnal Bisnis dan Manajemen. Vol.6 No.1.
Purnamasari, Linda, Sri Lestari Kurniawati dan Melliza Silvi. 2009. Interpendensi antara keputusan investasi, keputusan pendanan dan keputusan dividen. Jurnal Keuangan dan Perbankan, Vol. 13, No. 1, hlm 106-119.
Ponnu, C.H. 2008. Academic Qualifications of Board of Directors and Company Performance. The Business Review Cambridge. Vol. 10. No.1: 177-181.
Rahmawati, Annisa' Dwi dan Puji Harto. 2014. Analisis Pengaruh Kualitas Pelaporan Keuangan dan Maturitas Utang Terhadap Efisiensi Investasi. DIPONEGORO JOURNAL OF ACCOUNTING Volume 3, Nomor 3, 2014, Hal 1-12. Semarang: Universitas Diponegoro.
Ramadhani, Zhafarina Isti dan Adhariani, Desi. 2015. Pengaruh Keberagaman Gender terhadap Kinerja Keuangan Perusahaan dan Efisiensi Investasi. Simposium Nasional Akuntansi XVIII. Depok: Universitas Indonesia.
Ratih, Atika Putri. 2010. Pengaruh Penerapan Good Governance dan Sistem Pengendalian Intern Pemerintah Terhadap Kualitas Laporan Keuangan Pemerintah Kota Padang. Skripsi. Padang: FE UNP.
Research Institute. 2012. Gender Diversity and Corporate Performance. Switzerland: Credit Suisse.
Robbins, S. P. and T. A. Judge. 2008. Perilaku Keorganisasian. (Diana Angelica, Pentj). Ed. 12. Jakarta: Salemba Empat.
Robbins, Stephen P, and Timothy A. Judge. (2015).
Organizational Behaviour. United Stated: Person Education.
Robinson, G & Dechant, K. 1997. Building A Business Case For Diversity. Academy of Management Executive. Vol. 11, pp: 21-30.
Sari, Luh Indah Novita, dan Suaryana, I G. N. Agung. 2014. Pengaruh Kualitas Laporan Keuangan Pada Efisiensi Investasi Perusahaan Pertambangan. E-Jurnal Akuntansi. Bali: Universitas Udayana.
Sekaran, Uma, Roger Bougie. (2013). Research Methods for Business: : A Skill-Building Approach. (6th ed.). New York: John Wiley & Sons.
Smart Money. 2015, 16 November. Hadapi Turbulensi Dalam Perusahaan? Atasi dengan Cara Ini. Diakses tanggal 18 Maret 2016. http://smart-money.co/bisnis/hadapi-turbulensi-dalam-perusahaan-atasi-dengan-cara-ini/.
Sudiartana, I Made. 2011. Pengaruh Diversitas gender dan Latar Belakang Pendidikan Dewan Direksi Terhadap Luas Pengungkapan Sukarela. Thesis. Bali: Pascasarjana Universitas Udayana.
Sukirno, Sadono. 2006. Makroekonomi Teori Pengantar. Raja Grafindo Persada. Jakarta.
Susiana, Sali. 2014. Urgensi Undang-Undang Tentang Kesetaraan dan Keadilan Gender. Kajian Vol. 19 No.3 September 2014 hal. 219-234.
White, G. I., Sondi, A. C, dan Fried, D. 2003. The Analysis and Use of Financial Statements. John Wiley & Sons Inc.
Wicaksana, Ketut Arya Bayu, dan Astawa, I Putu. 2011. Pengaruh Kebangsaan Anggota Dewan Pada Kinerja Pasar. ISSN : 14411-1799.
Winarno, Wing Wahyu. 2011. Analisis Ekonometrika dan Statistika dengan Eviews, Edisi Ketiga. Yogyakarta : Unit Penerbit dan Percetakan (UPP STIM YKPN).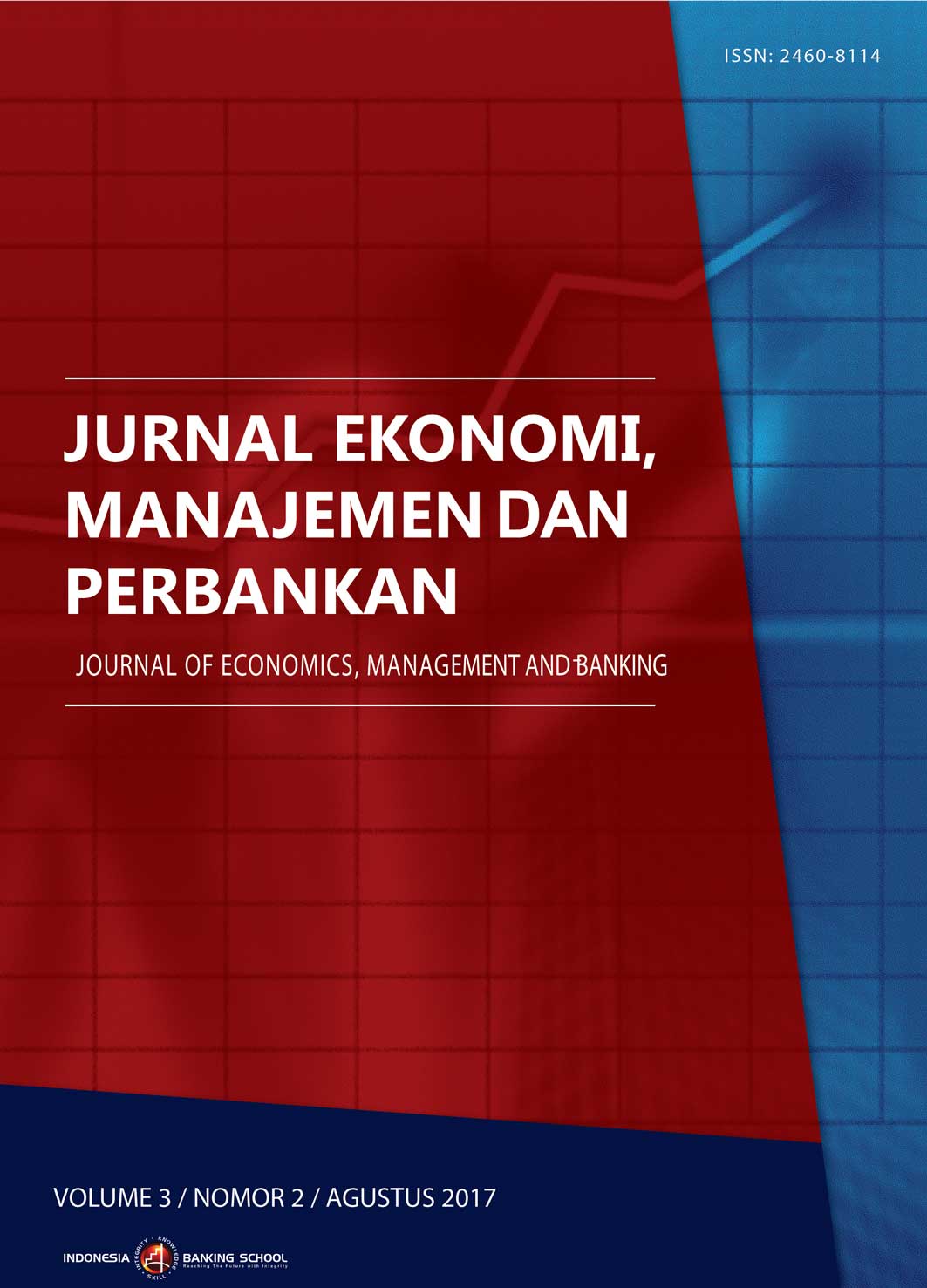 Downloads
License
Authors who publish with this journal agree to the following terms:
Authors retain copyright and grant the journal right of first publication with the work simultaneously licensed under a Creative Commons Attribution License that allows others to share the work to acknowledge the work's authorship and initial publication in this journal.
Authors can enter into separate, additional contractual arrangements for the non-exclusive distribution of the journal's published version of the work (e.g., post it to an institutional repository or publish it in a book) with an acknowledgment of its initial publication in this journal.
Authors are permitted and encouraged to post their work online (e.g., in institutional repositories or on their website) before and during submission. It can lead to productive exchanges and earlier and greater citation of published work.
Abstract Views: 691
|

File Downloads: 447