Pengaruh Kepemimpinan Transformasional, Employee Engagement, dan Kompensasi Terhadap Produktivitas Karyawan Bank ABC
Keywords:
Kepemimpinan Transformasional, Employee Engagement, Kompensasi, produktivitas karyawan
Abstract
Penelitian ini bertujuan untuk mengetahui pengaruh Kepemimpinan Transformasional, Employee Engage-ment dan Kompesasi terhadap produktivitas karyawan pada Bank ABC. Penelitian ini termasuk penelitian deskriptif yang memaparkan suatu karakteristik atau ciri tertentu dari sebuah fenomena yang terjadi dengan desain one shoot data collection, dimana pengumpulan data hanya diambil sekali, yang berlang-sung pada 3 sampai dengan 12 Nopember 2021. Pada penelitian ini diperoleh 156 responden yang merupa-kan karyawan tetap Bank ABC dengan kuesioner yang disebarkan melalui Google Form. Data yang di-peroleh dari responden diolah dan dianalisis dengan menggunakan metode Structural Equation Modelling (SEM). Adapun hasil penelitian ini, menunjukkan bahwa Kepemimpinan Transformasional berpengaruh terhadap produktivitas karyawan, Employee Engagement berpengaruh terhadap produktivitas karyawan, dan variable Kompensasi berpengaruh terhadap produkvitas karyawan .
References
Alpha Amanda Thea (2017), "Pengaruh Kepemimpinan Transformasional Terhadap Produktivitas Karyawan Melalui Variabel Kepercayaan (Studi Kasus Pada PG. Kebon Agung Malang)â€,Universitas Islam Negeri Maulana Malik Ibrahim Malang.
Cahyono, Ari. 2012. "Analisis Pengaruh Kepem-impinan, Motivasi, dan Budaya Organisasi terhadap Kinerja Dosen dan Karyawan di Universitas Pawyatan Daha Kediriâ€, Jurnal Ilmu Manajemen, Revitalisasi Vol. 1 No.1.
A. Sihotang, 2007, Manajemen Sumber Daya Manusia, Cetakan Pertama, PT Pradnya Par-amitha, Jakarta.
Avolio, B.J., Bass, B.M. and Jung, D.I, 1999, "Reexamining the components of transforma-sional and transactional leadership using the multifactor leadership questionnaireâ€, Journal of Occupational and Organizational Psychol-ogy, Vol. 60 No. 1, pp. 421-449.
Avolio, B. J., Zhu, W., Koh, W., & Bhatia, P. 2004. "Transformational leadership and organiza-tional commitment: mediating role of psychological empowerment and moderat-ing role of structural distance.†Journal of Organizational Behavior 25: 951-968
Bakker, A.B., Leiter, Michel, P., (2010). Work Engagement: A Hanbook of Theory and R esearch.New York: Psychology Press.
Dwi Indah Retnoningtyas, (2014), Analisis PengaruhRemunerasi dan Employee Engagement Terhadap Kinerja Pegawai Lembaga Sandi Negara, Jurnal MIX, Volume IV, No.1, Februari 2014.
Hasan, Basri, 2014,KepemimpinanKeplaSekolah, Bandung: PustakaSetia.
Hair, J.F.; Black, W.C.; Babin, B.J.; dan Anderson, R.E. (2014). Multivariate Data Analysis.7th. Ed. Essex: Pearson Education Ltd.
Hughes, Julia Christensen dan Evelina Rog. 2008. Talent Management, A Strategy for Improving Employee Recruitment, Retention, and Engegement within Hospitality Organization. International Journal of Contemporary Hospitality Management, Vol. 20, No.7, pp.743-757.
Lamba, S., & Choudhary, N. (2013). Impact of HRM practices on organizational commitment of employees. International Journal of Advancements in Research & Technology, 2(4).
Malayu S.P. Hasibuan. (2005). Manajemen Sumber Daya Manusia, Edisi Revisi, Jakarta : Bumi Aksara.
Malhotra, N.K; Nunan, D.; dan Birks, D.F. (2017). Marketing Research An Applied Approach. 5thEd. New York: Pearson Education.
Martini, Ni Putu Riski. (2017), Pengaruh Penem-patan Sumber Daya Manusia Pada Kinerja Karyawan Di Pemerintah Kabupaten Ban-dung, Jurnal KRISNA: Kumpulan Riset Akuntansi; Vol. 9, No. 1 Juli 2017.
Mercer, M. Carpenter, G. & Wyman, O., (2007). Engaging employee to drive global business success.
Meyer & Allen.1997. Commitment In The Work-place (Theory, Research and Application). Sage Publication London.
Martha, Ade, Rio; Rahardjo, Kusdi; Prasetyo, Ariq. (2018). Pengaruh Gaya Kepemimpinan transformasional Terhadap Kinerja Karyawan Dengan Motivasi Kerja Sebagai Variable Mediasi, Universitas Brawijaya, Malang, Indonesia.
Nabilah Ramadhan & Jafar Sembiring, (2014), Pengaruh Employee Engagement Terhadap Kinerja Karyawan di Human Capital Center PT. Telekomunikasi Indonesia, TBK, Jurnal Manajemen Indonesia, Vol 14- No.1 April 2014.
Nur Avitya Ningrum (2018),â€Analisis Pengaruh Gaya Kepemimpinan Transformational Terhadap Produktivitas Kerja Karyawan Melalui Kepuasan Kerja Pada UD HD Jaya Sidoarjoâ€, Universitas Islam Negeri Maulana Malik Ibrahim Malang.
Perizade, Badia., Yudi Muliawan, & Afriyadi Cahyadi, (2017), " Pengaruh Keterikatan Karyawan (Employee Engagement) Terhadap Kinerja Karyawan Di PT. Badja Baru Palembangâ€, Jurnal Ilmiah Manajemen Bisnis Dan Terapan Tahun XIV No 2
Risambessy, Agusthina, Bambang Swasto, Armanu Thoyib, Endang Siti Astuti (2011), Pengaruh Gaya Kepemimpin an Transformasional, Motivasi, Burnout Terhadap Kepuasan Kerja Dan Kinerja Karyawan, Jurnal Aplikasi Manajemen Vol 9 No 3.
Robinson, D., Perryman, S., & Hayday. (2004). The Drivers of Employee Engagement Report 408. Brington: Institude for Employement Studies.
Syamsir, Mutmainnah & Tamsah, Hasmin (2018), Pengaruh Kepuasan Kerja dan Kompensasi Terhadap Kinerja Melalui Motivasi Karyawan Hotel Claro Makasar, Jurnal Mirai Management, Volume 3 No. 2, 2018.
Wahyu, Agnes Handoyo dan Setiawan, Roy 2017 Pengaruh employee engagement terhadap kinerja karyawan pada PT Tirta Rejeki Dewata, Manajemen vol.5 no.1
Veithzal, Rivai,. 2004. Manajemen Sumber Daya Manusia Untuk Perusahaan. Jakarta:Grafindo.
Yamoah, Emanuel Erastus. (2013). Relationship Between Compensation And Employee Productivity. Singaporean Journal of Business Economics, and Management Studies, Vol.2, no.1, 2013.
A. Zuraik and L. Kelly, The role of CEO in transnational leadership and innovation climate in exploration and exploitation, 2019.
Data Laporan Tahunan PT PT. Bank ABC Tbk., 2018. Webiste PT. Bank ABC.
Data Laporan Tahunan PT PT. Bank ABC Tbk., 2019. Webiste PT. Bank ABC.
Data Laporan Tahunan PT PT. Bank ABC Tbk., 2020. Webiste PT. Bank ABC.
Data Laporan Tahunan PT Bank Capital Indonesia Tbk., 2020. Webiste Bank Capital.
Data Laporan Tahunan PT Bank Sampoerna Tbk., 2020. Webiste Bank Sampoerna
https://www.ojk.go.id/id
https://www.bi.go.id/id
https://www.lps.go.id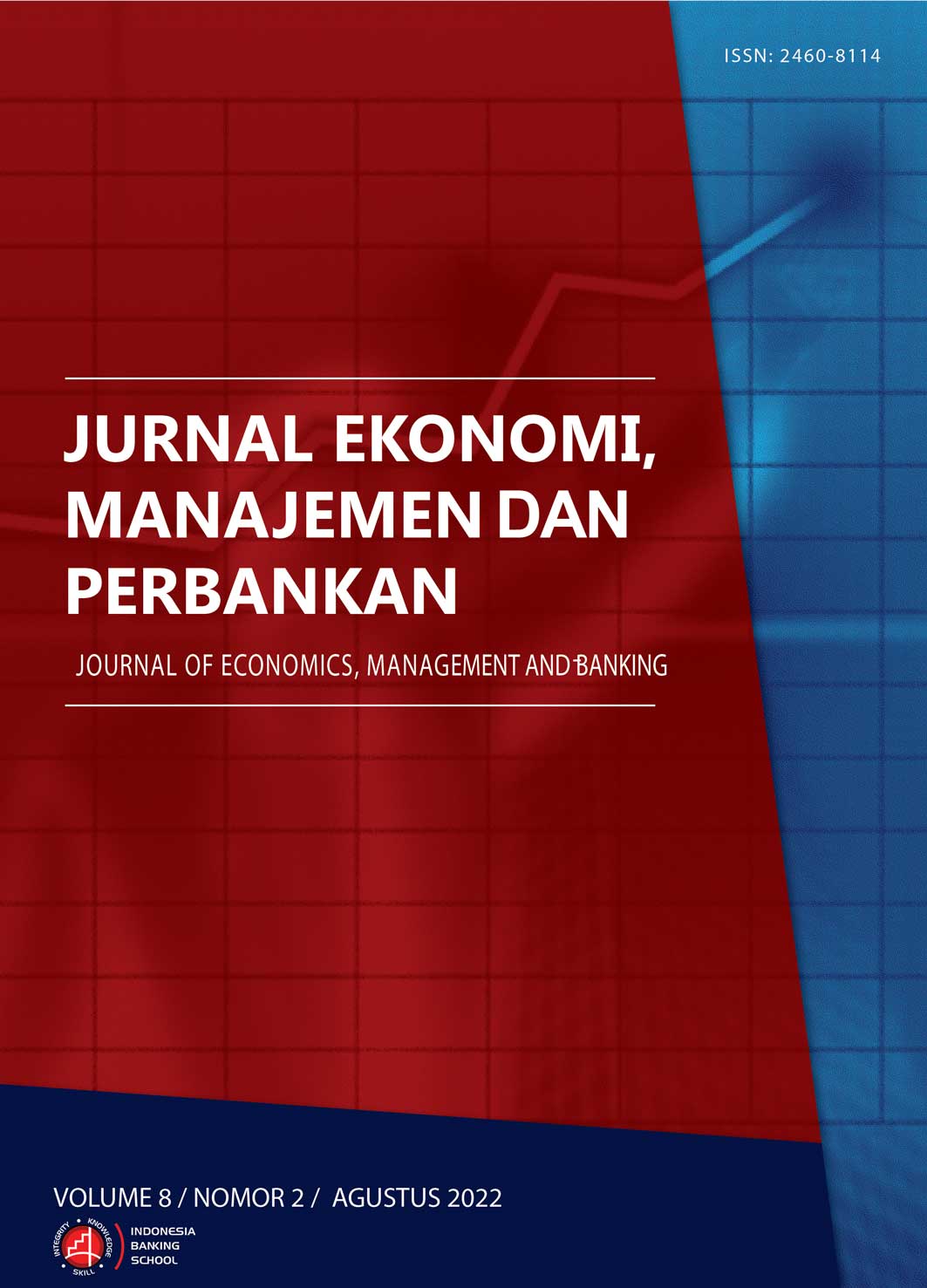 Downloads
License
Authors who publish with this journal agree to the following terms:
Authors retain copyright and grant the journal right of first publication with the work simultaneously licensed under a Creative Commons Attribution License that allows others to share the work to acknowledge the work's authorship and initial publication in this journal.
Authors can enter into separate, additional contractual arrangements for the non-exclusive distribution of the journal's published version of the work (e.g., post it to an institutional repository or publish it in a book) with an acknowledgment of its initial publication in this journal.
Authors are permitted and encouraged to post their work online (e.g., in institutional repositories or on their website) before and during submission. It can lead to productive exchanges and earlier and greater citation of published work.
Abstract Views: 407
|

File Downloads: 302