Perubahan Demografi dan Pertumbuhan Ekonomi : Bukti Empiris Kasus Indonesia
Keywords:
pertumbuhan ekonomi, rasio penduduk pekerja, usia muda, usia tua, Pendapatan perkapita
Abstract
Perubahan demografi yang terjadi di banyak negara berkembang berdampak pada seluruh komponen yang ada dalam ekonomi suatu negara, demikian juga hal ini terjadi di Indoensia. Perubahan demografi yang tidak terkendali tentunya akan berdampak pada kondisi ekonomi negara tersebut. Tujuan penelitian ini adalah untuk menganalisis sejauhmana perubahan demografi berdampak pada pertumbuhan ekonomi serta faktor-faktor yang mempengaruhinya.Penelitian ini adalah penelitian deskriptif kuantitatif yang mencoba menganalisa dampak perubahan demografi terhadap pertumbuhan ekonomi. Adapaun variabel yang dipergunakan adalah pertumbuhan ekonomi, pendapatan per kapita, pertumbuhan penduduk, rasio pekerja dengan jumlah penduduk, penduduk usia muda dan tua, serta harapan hidup masyarakat. Model analisis yang digunakan adalah reflikasi dari model Bloom Williamson, and Yu; Higgins dan Wiiliamson, dengan teori utama adalah Solow-Swan Model. Menggunakan data time series selama 19 tahun, dan data panel selama 9 tahun dengan 13 provinsi terpilih di Indonesia.Hasil penelitian menunjukkan, bahwa : untuk model regresi berganda, variabel angka harapan hidup serta rasio pekerja penduduk berpengaruh posistif signifikan terhadapa pertumbuhan ekonomi untuk keseluruhan model yang digunakan, sedangkan pertumbuhan populasi berpengaruh negatif terhadap pertumbuhan ekonomi. Sedangkan untuk model data panel per provinsi pertumbuhan pekerja, pendapatan perkapita, pertumbuhan populasi serta usia tua dan muda berpengaruh terhadap peertumbuhan ekonomi, namun rasio perkerja penduduk dan rasio pekerja berpengaruh negatif terhadap pertumbuhan ekonomi.
References
Acemoglu, D., & Johnson, S (2007). "Disease and Development: The Effect of Life Expectancy on Economic Growthâ€. Journal of Political Economy, 115(6)
Ashraf, Q., Lester, A., & Weil, D.N (2008). "When Does Improving Health Raise GDP?. National Bureau of Economic research (No.w14449).
Asongu, A Simplice (2015). "Long Term Effcet of Population Growth on Aggregate Investment Dynamics: Selected Country for Africaâ€. African Journal of Economic and Mangement Stuides, Vol. 6 Issues; 3, pp.225-250.
__________________(2011). How Would Population Growth Affect Investment in The Future ? Asymetric Panel Causality Evidence for Africa. African Governance and Development Institute, MRPA.
Azomahou, T., & Mishra, T. (2008). "Age Dynamics and Economic Growth: Revisiting the Nexus in a Nonparametric Settingâ€. Economics Letters, 99(1), 67-71
Bloom, D.E.,& Williamson, J.G.(1998). "Demographic Transitions and Economic in Emerging Asiaâ€. The World Bank Economic Review, 12(3), 419-455
Bougie, & Sekaran. (2013).â€Research Methods for Business: A skill Building Approachâ€. New York: John wiley@Sons. Edisi 5,
Diep, Vo Tan & Hoai, Nguyen Trong (2016), "Demographic Factors and Economic Growth : The BI-Directional Causality in South East Asiaâ€. The Ninth Vietnam Economists Annual Meeting Da Nang City, 11-12th August 2015
Ekananda, Mahyus (2016). Analisis Ekonometrika Data Panel. Mitra Wacana Media, Jakarta
Gujarati. (2004). "Basic Econometricsâ€, Fourth Edition. New York: The McGraw-Hill.
Higgins, M & Williamson, J.G (1997). Age Structure Dynamics in Asia and Dependence on Ferign Capitalâ€. Population and Development Review, 23(2), 261-293
Kelley, A. C., & Schmidt, R.M (1995). "Aggregate Population and Economic Growth Correlations: The Role of The Components of Demographic Changeâ€. Demography, 32(4), 543-555
Malhotra. 2005. "Riset Penelitianâ€. Gramedia Pustaka Utama. Jakarta
Mankiw, (2016). "Macroeconomicâ€, W.H. Freeman & Co, 9th Edition.
Mishkin, Frederic S, (2012). "The Economy of Money, Banking and Financial Marketâ€. Pearson Education, 2012
Ranganathan, Shyam, et all (2015), "The Demographic Transition and Economic Growth : Implication for Development Policyâ€. Palgrave Communications, palgrave-journals.
Song, Sijia (2013), "Demographic Changes and Economic Grwoth: Empirical Evidence from Asiaâ€. Illinois Wesleyan University
Todaro P. Michael and Smith C. Stephen,(2011). Economic Develpment, Eleventh Edition, Addison Wesley, New York.
Yotopoulus, Pan A dan Nugent, Jeffrey B, 1997, "Economics of Development: Empirical Investigationâ€, Harper International Edition
Yu, Z(2011). Demographic Dynamics and Economic Take-Off: Economic Impact of China's Population Control Policies. Chinese Economy, 44(1), 72-90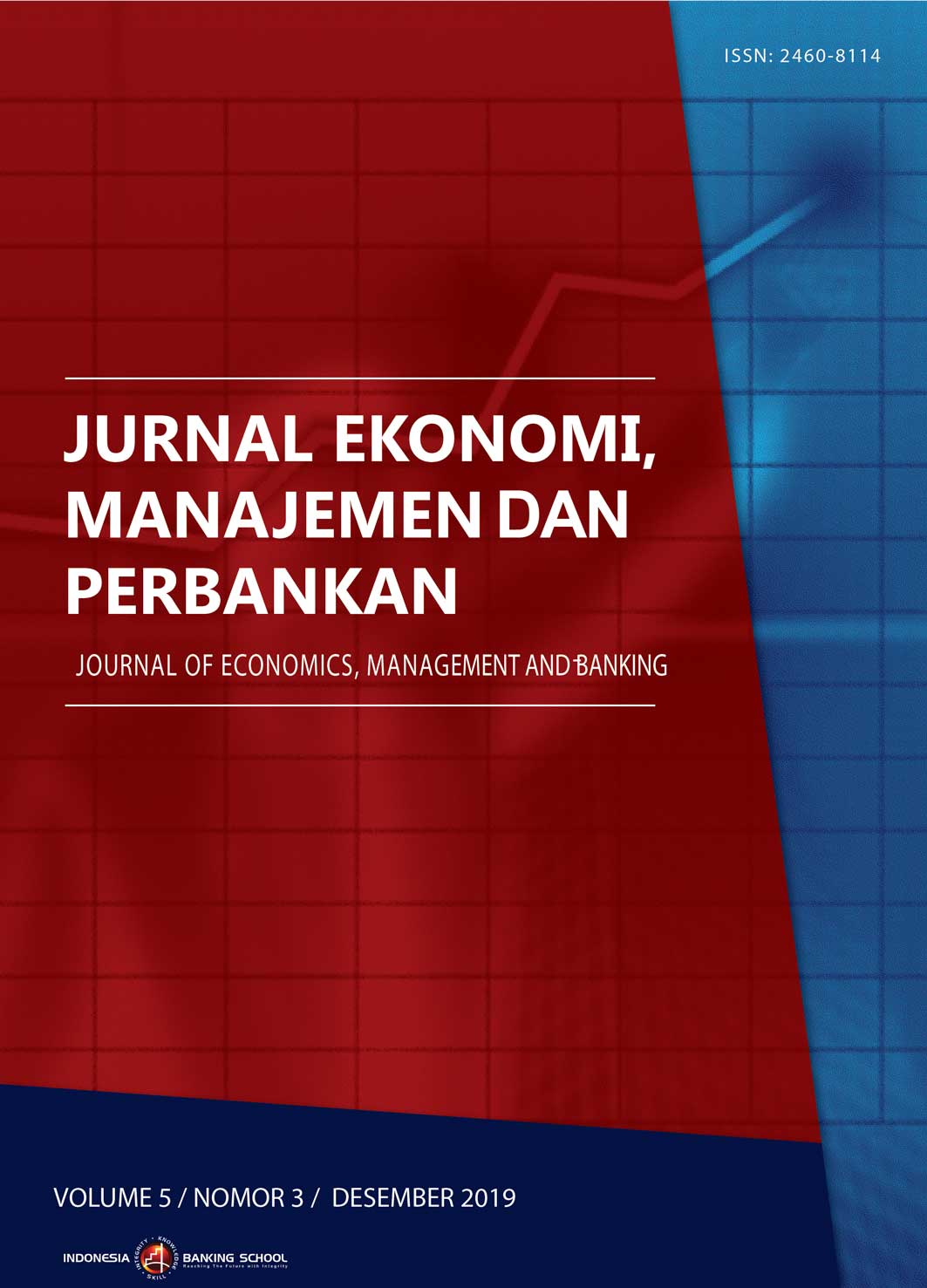 Downloads
License
Authors who publish with this journal agree to the following terms:
Authors retain copyright and grant the journal right of first publication with the work simultaneously licensed under a Creative Commons Attribution License that allows others to share the work to acknowledge the work's authorship and initial publication in this journal.
Authors can enter into separate, additional contractual arrangements for the non-exclusive distribution of the journal's published version of the work (e.g., post it to an institutional repository or publish it in a book) with an acknowledgment of its initial publication in this journal.
Authors are permitted and encouraged to post their work online (e.g., in institutional repositories or on their website) before and during submission. It can lead to productive exchanges and earlier and greater citation of published work.
Abstract Views: 3499
|

File Downloads: 2712